Forestry investments in Slovakia
Foreign investors investing in Slovakia can greatly benefit from the Strategic geographic location of the country. Investors managing forests can have easy access to the main timber markets, e.g. Austria, Germany, Czech Republic, Poland and Hungary. There is a market potential of 350 million customers within a radius of 1,000 kilometres. Slovakia has accepted Euro as its currency since 1st January 2009. The major advantage of investing in forestry is that Slovakia has plenty of highly qualified and technically skilled laborers. Foreign companies can have access to cheap labor and setting up a wood factory requires less investment
Business friendly tax system
There are no limitations on foreign investors when it comes to setting up companies. A foreign natural or legal person may establish any form of company either together with other foreign or Slovak persons or alone as a sole shareholder. A limited-liability company the most commonly used corporate form. The organisation of a limited liability company is simple therefore this form is the most popular in Slovakia. The minimum required registered capital is only 5,000 Euro.
Business friendly tax system
Corporate tax 22%
Personal income tax 19-25%
VAT 20%
However a new Agricultural land protection Law came into action in 2014 to protect local farmers against speculative foreign investors the law is limiting the purchasing only of the arable land, hops, vineyeards, orchards and permanent grasslands. Fortunately selling, purchasing and ownership of the forests is not limited
Slovakia has a huge forest land, about 2 013 500  hectares. 41% of the country is covered by forests (38,6% coniferous, 61,4% deciduous). The country has high percentage of production forests (up to 70%). The total annual harvesting exceeds 9 000 000 m3. A large number of private foreign companies have invested in wood processing and manufacturing of wood products which generates a strong domestic demand. All wood can be marketed locally. Due to close container terminals forestry products can be loaded into containers as well and export to resource-hungry China.
Buying a commercial forest can help your money grow
Forestry assets should be considered as safe investment with middle or long term investment period. The annual timber increment is stable and measurable. Your trees will always grow and produce more timber on your land every year. For shorter return on investment a mature forest near harvest date is the best option. If investing in forestry long term, as a pension provision, might buy into a younger forest. Another potential benefit of forest investment is that the EU offers grants to help upkeep the woodland.
Fortunately commercial forests in Slovakia are still undervalued. Price of forests depend on its size, location, age, species structure and harvesting possibilities. Of course, management is needed your forest needs to be maintained. An annual maintenance fee is dependent on the size and type of forest.
The demand on European white oak saw logs or other hardwood products as veneer, top layers, solid oak flooring or furniture is constantly growing. This is because the European white oak (Quercus Robur, Quercus Petraea) has an unique, colourful texture, long-lasting and durable heartwood. Oak is the most wanted product by customers and at the same time oak forests have been loosing its natural territory all over the world. Growing demand on saw logs, firewood and increasing energy production from sustainable, renewable sources are the main reasons why our company prefers and advises investments into hardwood forests with high percentage of valuable oak. If you have oak forests you can sell everything anytime.
Fortunately commercial forests in Slovakia are still undervalued. Price of forests depend on its size, location, age, species structure and harvesting possibilities. Of course, management is needed your forest needs to be maintained. An annual maintenance fee is dependent on the size and type of forest.
425 hectar of hardwood forest for sale
We offer for sale a portfolio of hardwood forests located on the southern part of middle Slovakia. The forests are near to the town called Tornaľa in 3 locations close to each other within a radius of 8 kilometres.
FOREST LOCATIONS:

A
BERETKA
291 ha
B
CHVALOVÁ
104 ha
C
MELIATA
29 ha
Forest has valid Forest Management Plan which authorizes the owner to harvest and sets certain forest maintenance tasks for o period of 10 years (decade). Within this microregion the forestry decade lasts from 2007-2016. Valid Forest Management Plan means that the owner has any permissions from all authorities needed for providing forestry activities.
| Key figures from Forest Management Plan | 2007 – 2016 |
| --- | --- |
| Total area | 425,46 hectars |
| Production forests | 418,53 hectars |
| Protected forests | 39,11 hectars |
| Altitude | 180 – 300 m |
| Terrain | moderate |
| Natural regeneration | high 85-100% |
| Annual timber increment | 5 m3/ ha |
| Timber reserve | 125 175 |
| Conifer | 4 160 m3 |
| Deciduous | 121 015 m3 |
Harvesting possibilities = Return on your investment
The forests are untouched. There have not been any significant planned harvestings.
| Timescale | Harvesting volume | * Standing timber value |
| --- | --- | --- |
| Next 2 yrs | 12 101 m³ | 531 228,-€ |
| Next 8 yrs | 30 362 m³ | 1 311 584,-€ |
| Next 15 yrs | 53 317 m³ | 2 351 096,-€ |
| Next 25 yrs | 74 920 m³ | 3 363 058,-€ |
| Next 30 yrs | 95 685 m³ | 4 341 570,-€ |
Notes: * standing timber value calculation:
38,- EURO per m3 firewood price for hardwoods except Sessile Oak
60,- EURO per m3 for Sessile Oak
Significant harvesting volumes, high percentage of oak, high percentage of regeneration cutting will set high revenue. At the same time the harvesting, forwardig costs, forest maintenance fee are low. Growing oak precentage in next decades will increase future value of the forest. The average harvesting volume per decade is not exceeding average timber increment (21 250 m3 per 10 years) – a sustainable forest management can be provided on an long-term bases.
| Forest-related costs | |
| --- | --- |
| Forest management fee per year | |
| Felling and forwarding cost | 8-12 €/m³ |
| Estate tax per year | 2-12 € / hectar |
| Forestry worker salary per month | 450 -600 € |
| Thinnings and other forest maintenance services | 150-220 € / hectar |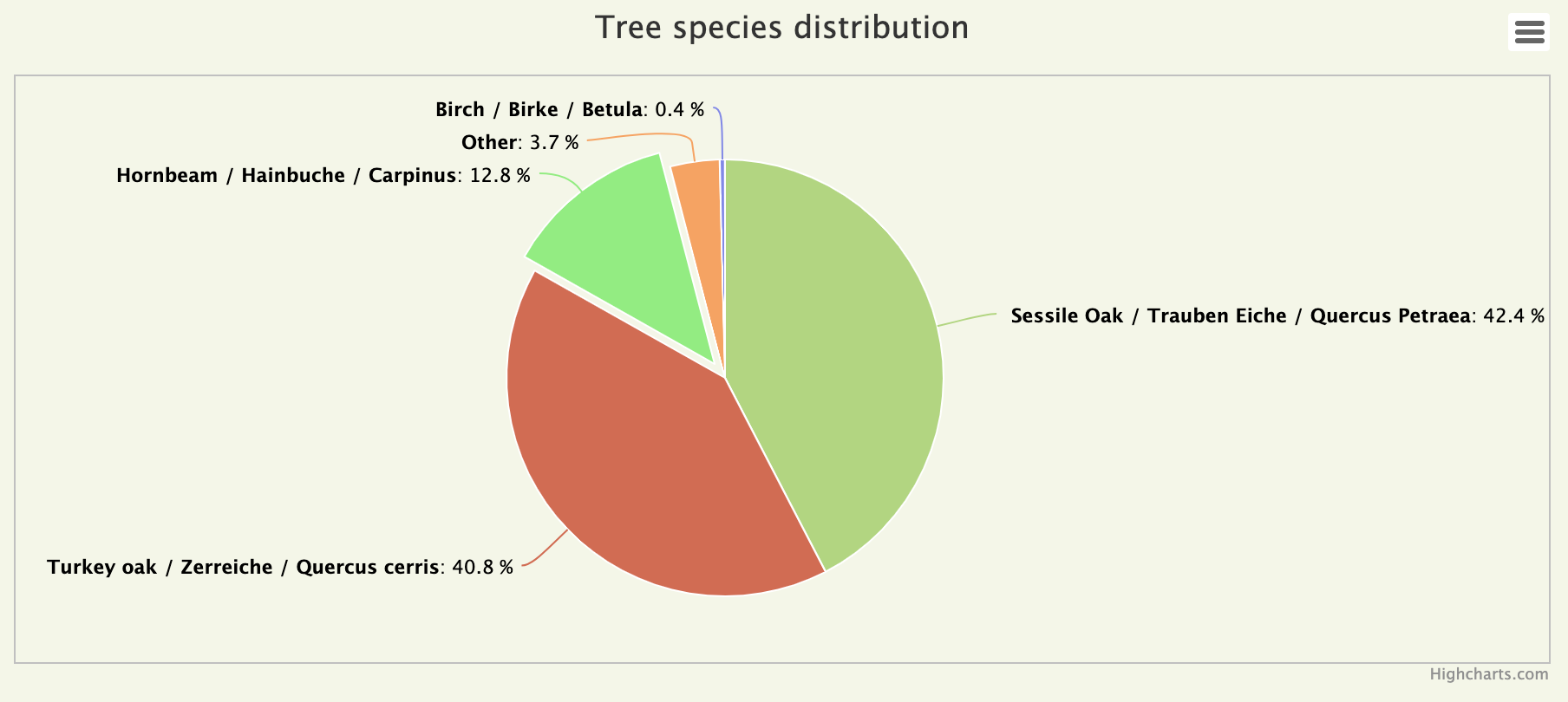 | Forest age groups | Hectars |
| --- | --- |
| 0 – 19 years | 45 |
| 20 – 39 years | 26 |
| 40 – 59 years | 35 |
| 60 – 79 years | 156 |
| 80 – 99 years | 194 |
| 100 – 120 years | 2 |
| Total | 458 |
The tree species distribution and age structure makes this forest healthy and resistant against the most illnesses. However, a heavy storm called Zofia hit this region on the 15th May 2014 the forest had not suffered any wind damage.
Due to the high percentage of oak there si a regural supply of acorn. Therefore the biggest forest (A, Bretka) is ideal for establishing a smaller game park as well. However forest ownership does not automatically quarantee membership in the local hunting organisation, usually the forest owner benefits from hunting on an agreement basis. The main local wild animals are: wild boar, deer, fallow and roe deer or mouflon. But your forest can be visited by brown bear or wolves as well.
For establishing a separate hunting organisation an ownership of 51% of an 1,000 hectar of compact land is needed. For setting up fenced game park the size is not regulated however a minimum of 100 hectar is recommended. Without investing into fence instalation you can establish a pheasant game park on smaller forest units.
Selling price of 2 000 000 EURO for 425 hectar of untouched forest is very advantegous.
For further information, please contact:
This forest is in company ownership. There is a possibility to purchase 100% company shares. If you find this size to small for you there is a possibility to purchase neighbouring plots or similar forests within this microregion and expand.